Ikkat Salwar Material - Parrot Green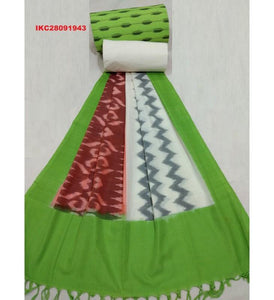 Ikkat Salwar Material - Parrot Green
Regular price
Rs. 2,900.00
Sale price
Rs. 2,600.00
The Parrot Green colored Ikkat salwar is the Ikkat dress material that has the green border along with the Ikkat design all over the middle with white & grey wavy patterns. The white and green along with maroon contrast pushes out the elegant look on you while carrying the traditional attire. 
Ikkat Salwars are made using the Tie and Dye Technique with highly experienced Ikkat Designer and Weavers. 
Ikkat Salwars looks very graceful, adorable to any occasion. Be it weddings, traditional events, parties, festivals this Ikkat Salwars doesn't fail to impress others. 
Here's why you'll love this:
Precise Warp and weft of Ikkat Design and Weaving
Looks Gorgeous 
Handwoven 

Eco-Friendly Colors 
Specifications:
Top and Dupatta 2.5Metre in length and bottom 2 Metre in length
Similar products
Customers who viewed this item also viewed