Ikkat Dress Material Red and Black Combo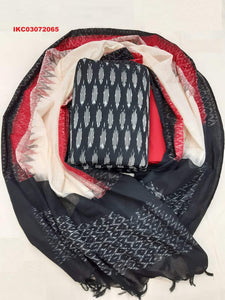 Ikkat Dress Material Red and Black Combo
Regular price
Rs. 2,999.00
Sale price
Rs. 2,499.00
The Black & White-colored Ikkat salwar is the Ikkat dress material that has the black border along with the plain design all over the middle with a white line pattern. The white and black contrast pushes out the elegant look on you while carrying the traditional attire. 

Ikkat Salwars are made using the Tie and Dye Technique with highly experienced Ikkat Designer and Weavers. 
Ikkat Salwars looks very graceful, adorable to any occasion. Be it weddings, traditional events, parties, festivals this Ikkat Salwars doesn't fail to impress others. 
Here's why you'll love this:
Precise Warp and weft of Ikkat Design and Weaving
Looks Gorgeous 
Handwoven 

Eco-Friendly Colors 
Specifications:
Top and Dupatta 2.5Metre in length and bottom 2 Metre in length
Instructions: 
Wash dark & light colors separately
Don't squeeze or wring the material
Store in a clean & dry place 
Dry by lay
Don't use hard detergents or bleach. Suggested dry cleaning or hand wash with cold water and flat it out with a dry towel and hang it.
Similar products
Customers who viewed this item also viewed